World Chilli Alliance launches the Donation Campaign"We Are With China, And You?" to fight against the Coronavirus 2019-nCoV
date:2020-02-03
views:1069
Due to the critical situation that China is experiencing as a result of the new 2019-nCoV coronavirus, the World Chilli Alliance announces the launch of a charity activity aimed at creating and strengthening support systems for the communities most affected by this health crisis.
The World Health Organization has already declared the coronavirus outbreak a global health emergency, which sees Chinese people employed at the front line to counter the spread of the aforementioned virus.
In this regard, the World Chilli Alliance draws the attention of the international community in the hope of gathering active and numerous adhesions from individuals, businesses, and institutional bodies.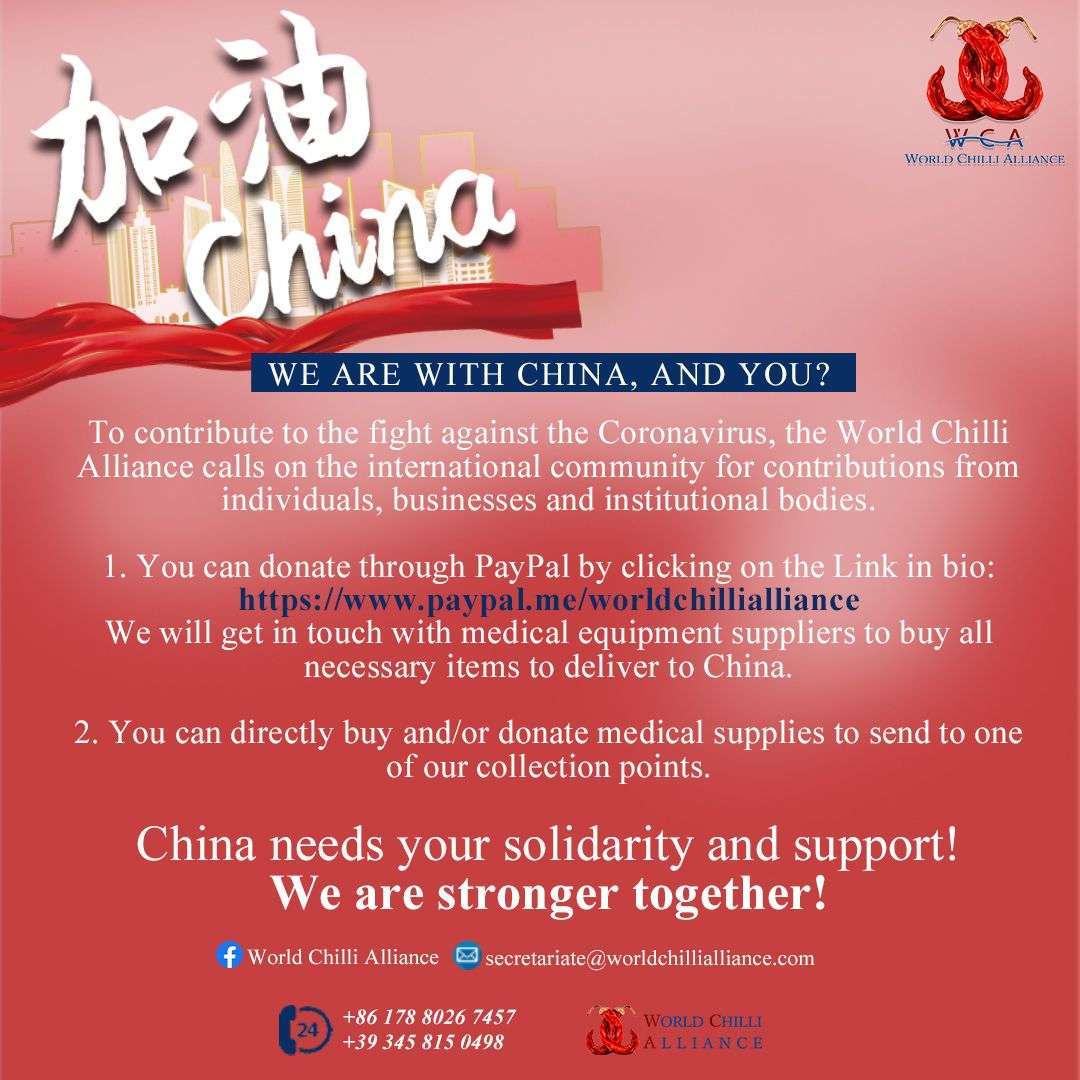 All donors will be able to express their contribution in the following ways:
1. Donation through the following link which will refer to a secure payment via PayPal.We will regularly provide the real-time donor list on our website and other official platforms.(free amount that will be used for the purchase of medical supplies required for the treatment and prevention of the aforementioned virus): https://www.paypal.me/worldchillialliance
2. Donation of medical supplies to be sent to one of our collection points which will then be rapidly shipped to China by the WCA. In particular, we would like to emphasize the urgent need for N95 sanitary masks.
3. Sharing of information regarding purchase channels for large volumes of N95 sanitary masks and other medical supplies (see list obove)
We are grateful for any support, participation and dissemination within your social media and professional networks.
Unity is strength. We are counting on your help!